Anne Dave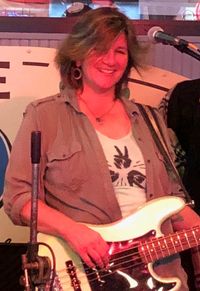 y - Originally from Philadelphia, PA, Anne fed her musical tastes with the sweet sounds of the flute in 9th grade. Active in school music and sports programs she pursued her dream of having children, all the while singing to them and naturally building a repertoire that would quickly fill a much bigger musical direction. After raising her two sons she began to turn her focus back to her own musical roots. Picking up a bass at the encouragement of a family friend, Anne joined that friend with others in creating the band, Tangled Web, that placed her squarely in front of the microphone. She found her voice quickly, enjoying singing lead and harmony and effortlessly coordinating her voice with highly respectable bass chops. Anne's natural ability and perfect pitch provided the solid foundation for not only Tangled Web to thrive, but also the spin-off Bettenroo to come to fruition. 
Lori Jacobs - Originally from Allentown PA, Lori began her musical soul search in 4th grade with trumpet and self taught drums. Curious about all things musical, guitar proved to be the most reasonable form of inclusive musical fun amongst a gaggle of friends. Playing everything from rock, classical, jazz, country rock, folk and blues she majored in music in college and went on to perform on drums with Atlanta classic rock cove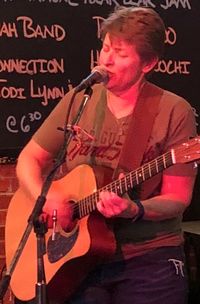 r band "Streetlife", and Burlington VT bands "Relic" & "South 89", and later guitar with duo "Wilder Than Her". A move to Philadelphia with all female acoustic jazz group, Natural Reaction produced the original CD release, Pastiche. In 1997 Lori teamed up with Lynn Verdone forming the Philadelphia area based duo, Backflipannie. They released two successful independent CD's of original music that received radio airplay on a global scale along with live performances in the US and a tour across Europe including headlining an international music festival in Cologne, Germany playing to an audience of 20,000+, and a broadcast to China from Voice of America in Washington DC. In 2005, a six year stint in the nurturing surroundings of Vermont followed that allowed her a chance to explore solo work, country & hard rock drumming, and several acoustic duo configurations - each contributing to fine tuning her part of Bettenroo today.